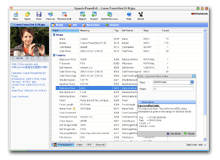 When a photographer exhibits, sells, publishes or submits his works, Exif data is very important as a part others learn about his works more, specially for landscape, photojournalism, people, sports, travel and so on. The work is incomplete for audiences while images lose relational information, indeed successful or not.
Generally speaking, photographers kept and saved slides, photographic data and text record dividually. Digicam brings Exif data and convenience. But we still face these difficulty: cannot control the Exif information, cannot save text into Exif record, be helpless with Exif data in scanned images, images lose data after be resaved by some graphic editing software, etc.
Every photographer could realize that Exif information is the important approach to study images. Many people dream to save user-defined Exif information into images not only created by digicam automatically. But creating Exif data is always controled by digicam manufacturers, users are difficult to edit and control photographic data in photos. It's a pity in many people's mind all the while.
PowerExif emerges as the times require!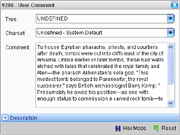 Now, PowerExif solve all of problem trouble photographers. It allows user add, modify and delete all kinds of photographic data in Exif tags for digital images(from digicam or scanner), and user could save maxium 60,000 characters in it. PowerExif not only tallys with Exif V2.21 standard but expands some extension tags for professional photography, for example lens, flashlamp, filter, scanner, film.
Opanda PowerExif uniquely provides revisable feature for all Exif 2.21 standard tags, and supports all kinds of extension Exif tags well(for example Adobe, Tiff etc.). Data modified by PowerExif can be read out by image browsers, editors and managers which support standard Exif tags.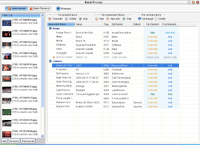 PowerExif has an innovative user interface, its editing features is so simple and easy to operate. You will have a amused using experience. PowerExif sorts Exif data type based on user's requirement and custom, provides several view modes and edit modes. There is a hex edit mode in it for special requirement.
We know, Exif information can record GPS data of photos. Now, more and more digicam makers bring GPS into their products for recording GPS data while take a photo. PowerExif allows user to add or modify all GPS standard tags(31 kinds). The feature provides powerful technical support for nicely position the place taken photos.
PowerExif allows maxium 60,000 characters record. Users can detailedly write down related words in Exif data. PowerExif supports multi-language code, UNICODE and UTF-8, and cleans roadblock for exchanging information among people use different languages.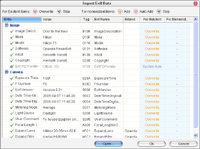 PowerExif provides powerful Exif data template and import/export features, allows export Exif data as a template file or a standard XML format file or a TXT file. It's so convenient to use Exif data in any situation. Opanda has expended some extension tags for professional photography, for example lens, flashlamp, filter, scanner, film. Let Exif be a most convenient tool for exchange photographic information.
Specially, the professional version of PowerExif supports powerful batch process and Tiff format file.
Features list:
Support remove all image metadata information
Support to all EXIF 2.21 standard tags.
Support to all non-standard extension tags
Add or modify GPS information into images.
Maximum 60,000 characters record, support multi-language code & unicode
Support batch modify & remove.

Powerful import & export function.
Support JPEG, TIFF and Exif template file.
Special extension tags for profession photography (lens, film, filter, scanner, flashlight)